Home Design 3D by LiveCAD :
Dream Homes at Your Fingertips
Montreuil, February 10, 2011. Anuman Interactive and LiveCAD have released the home planning and design application Home Design 3D - by LiveCAD on iPad.
Aimed at the general public, Home Design 3D - by LiveCAD offers iPad users the chance to create their own home-building and interior design projects at the touch of a button.Quick and easy to use, this exciting new app allows everyone to create two-dimensional floor plans, design interiors and enjoy a three-dimensional tour of their dream home.
The app's browser menu is divided into several sections and allows users to crete and manage various projects (available for display in a slideshow) and to share them by email. Highly intuitive, Home Design 3D - by LiveCAD also features an illustrated tutorial, with each function explained in precise detail. Users can use the touch function to move rooms around, resize them and dwitch from one room to the next.
The second section of the browser menu features a database of abailable objects (windows, doors, furnishings, furniture, etc) which appear as icons and are organized by room (bathroom, kitchen, lounge, etc).
The last section consists of tools used to create a 2D plan. Default parameters can be set to give rooms a uniform layout, and measurements can be displayed (in either metric or imperial equivalents) and room names can be assigned for easy reference.
DESIGNING AND CREATING HAS NEVER BEEN EASIER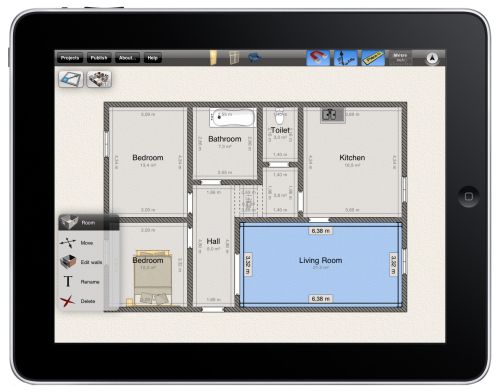 Thanks to the 2D Design Mode, users can draw rooms simply by clicking on the Construction tab and sketching directly on the iPad touchscreen.
A context menu is available for each item displayed, allowing parameters to be adjusted in real time. For example, users can move or change the size of a room with minimal fuss, choose to edit or remove wall sections simply by clicking on them, and click on object in the object catalogue and drag them into the plan.
Users can zoom in and out when viewing a project ; as an entire house or just a single room.
VISIT AND DECORATE IN REAL TIME
Users can access the 3D Mode at any stage of the design phase to display the project, go on a virtual tour of the house, or decorate the rooms.
The Display Mode can be used to bring up the outside view of the project. With the help of a touch joystick, users can go on an eye-level tour of the house in the Virtual Visit Mode.
Adding finishing touches to the house can be done in each display mode. The texture of the floor, ceiling and carpet in each room can be changed by double clicking on a selected object in the browser menu.